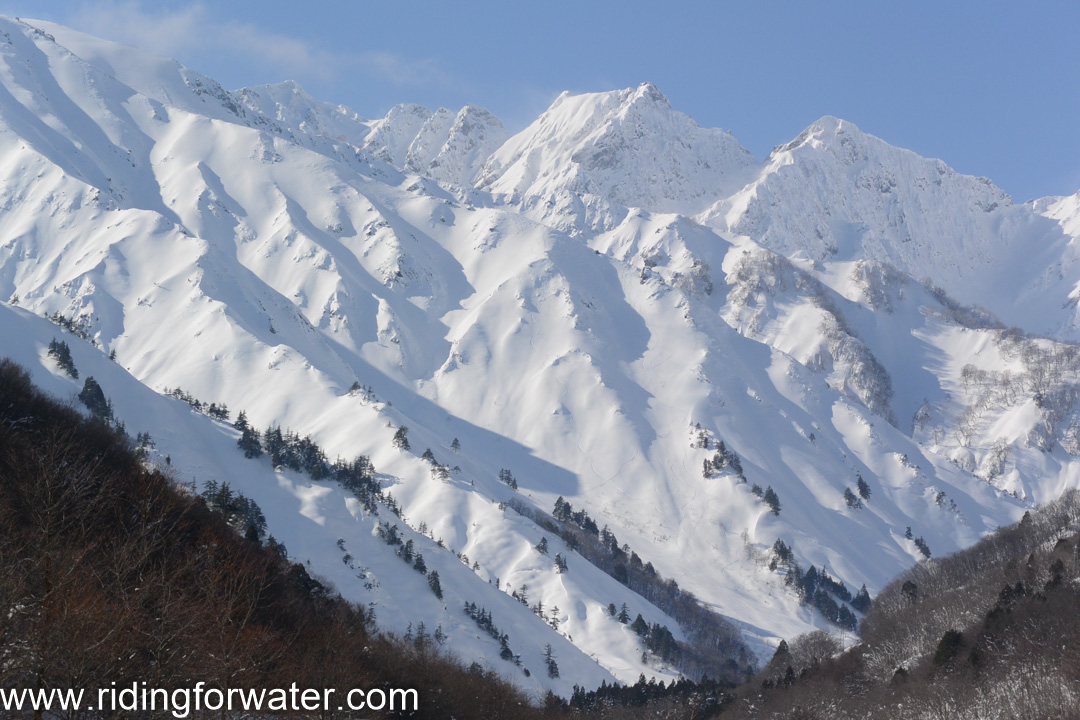 After a few month of surfing, we're on our way to the powder country! We've been dreaming for years to discover this paradise after having seen hundreds of videos showing that incredibly light powder!
Leaving hot and humid Manila, we land just a few hours later in the cold and busy city of Tokyo. We wanted to stay one day to see a Japanese friend that I met 8 years before on a beach in California. Yoshimi will show us the Shinjuku neighbourhood, bring us to a nice restaurant and introduce her little family. She was so happy to see us ! It brings some warmth in this cold and rainy weather!!! After a few hours in this huge and busy city, we left Yoshi to go have dinner with Alex, an old friend from Simon who just arrived a few months ago in Tokyo to live and work with his girlfriend as translators. The evening was really nice in a small restaurant serving Okonomiyaki, a sort of salty pancake with cabbage, eggs, shrimp, squid or porc with a delicious topping and some Japanese mayonnaise. Simon's favorite !!!  On top of that beautiful food, our friends gave us some precious tips on the numerous local customs to respect, their culture is so different from what we're used to that it's really easy to offend Japanese people.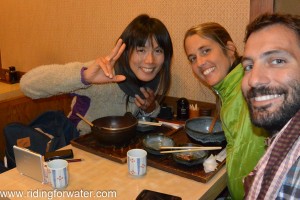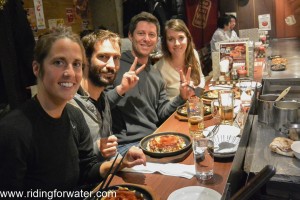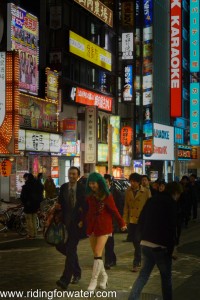 After a short night in our capsule hotel, we went to the biggest transport hub in the world, Shinjuku station, to take a train to Hakuba. The ski resort where the downhill from the 1998 Nagano Olympics took part. We wanted to be sure to go on the right platform in this huge station so we asked with our really basic Japanese if the train was going to Hakuba. A man crossed his arms in front of him saying "Hakuba closed, too much snow!!!", so we had ten minutes to go to the info center, thinking we could get some information in English there. But after listening to us, the officeman disappeared and didn't came back to help us. We went back to the platform, jumped in the train just in time not knowing where it would stop on the way to the mountains… When the ticket inspector arrived, we tried to have some more infos. Despite trying really hard with his Ipad to translate our question, it was impossible to know where the train was going. Finally I found a young businessman in the train that was able to help and tell us at which station we had to go out and change train before taking a bus to finish the journey in a valley covered by snow. Three hours after the schedule, we finally arrived in Hakuba. Snowy mountains, here we are!!!!!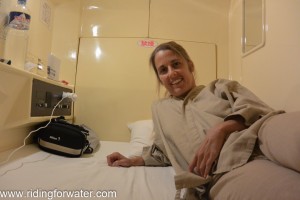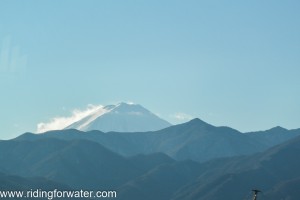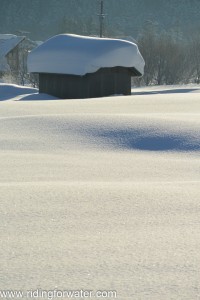 With all that snow and this beautiful sunshine, only our snowboard gear was missing. It has been send from Australia by our friend Dan with whom we spend a week in Manly a few months earlier. We missed the first incredible powder day of the season and it was pretty frustrating not knowing how many of those good days were still to come…
The night before Christmas, at 8:30 PM, the mailman finally came with our boxes! We finally had gloves, winter clothes, avalanche gear and bindings to put on the boards provided by our sponsors Rad-Air and Lib Tech.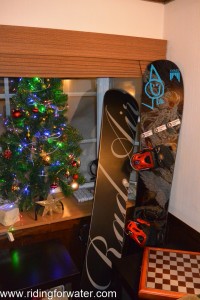 The week between Christmas and New Years Eve was incredible, after the big dump that had blocked our train, two big low pressures followed each other and made our days the dream we were waiting for. We couldn't believe the amount of snow and the quality of the runs we discovered days after days!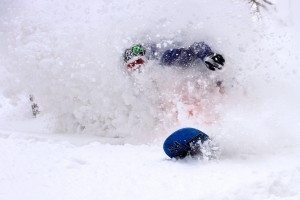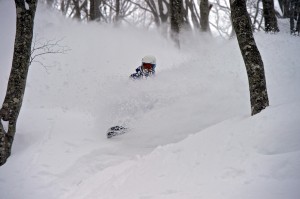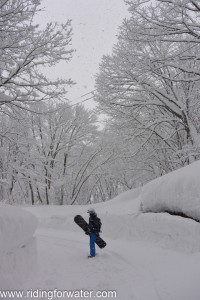 For Christmas, we also had the chance to get a huge box  sended from switzerland by my parents, it was full of good swiss local products. Chocolate, cheese, dried meat, white wine  and fondue,  … We didn't rush on all those good thing that we missed after so many month away from home but we enjoyed slowly every bit of it during the next two months.
Mid february, we reached a total of 15 meters of snow, we were bumping into pro riders coming here to film and get what made us come in that place. It was unbelievable to be so blessed when in Europe and Canada, every skier was complaining about the conditions, here, the walls of snow along the roads were just getting higher every week. After long days riding in the pow, we went to relax in the Onsens, natural hotsprings that are found everywhere around here and are part of the Japanese culture. During those two months, we had time to discover all the resorts in the Valley. Some with perfectly shaped snowparks and nice steep faces, another one with longer and mellower runs more than a thousand meter from top to bottom.  There are some magic forests to be found where you can seek refuge when the snow is dumping and the only option if you want to see in front of you is to take laps on deep tree runs. On the sunny days, we went up higher on the ridges to discover the big summits of the Japanese Alps. It was always so nice to see those Japanese snowboarders, always smiling and motivated, happy to share those simple moments with strangers. They were at the same time surprised and honoured that two Swiss left what they think the best mountains in the world to come here and taste their snow!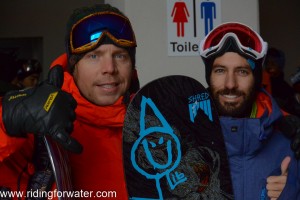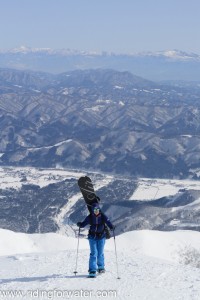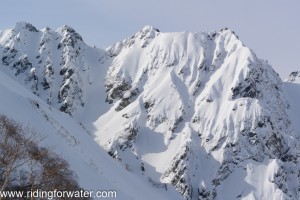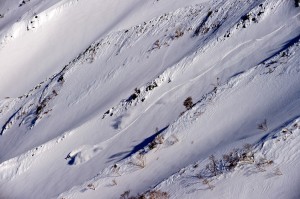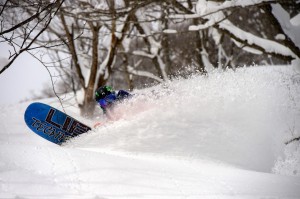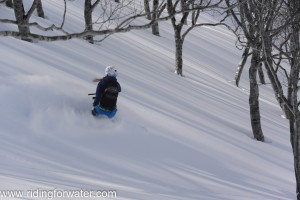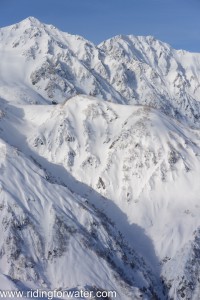 A swiss friend  had planned to come snowboarding in Japan, knowing that we were in Hakuba, he came to see us a few days. When he saw the conditions and the terrain, he decided to stay longer, we guided him and made him discover some crazy runs. Unlike what people imagine about Japan, in the Hakuba Valley you can find some big and steep mountains! So we used snowshoes to access even higher peaks with amazing views on the valley. We had the chance to see snow monkeys at the bottom of some runs and also the weird kamoshikas, some sort of deers mixed with pig and wolf… a cute animal but a real mystery!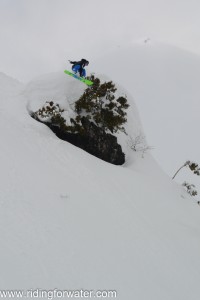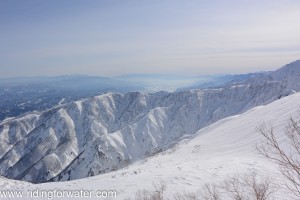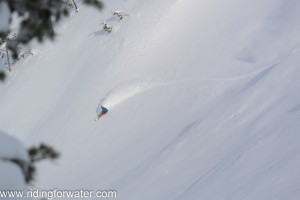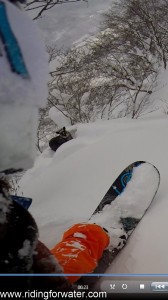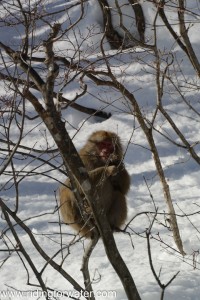 But Japan is not all about snow, it's also about food. When you think Japan, everybody thinks sushis but there's many more to discover. Curries, raw horse meat that the locals appreciate but that we loved cooked on the grill. We hate all sorts of soups with different noodles in them, okonomiyaki, chicken teriyaki, vegetable tempura, and many other dishes. It was always fun to go out for dinner, eating without your shoes, sitting on the floor, sometimes the menu is only in Japanese and you've got to roll the dice to choose your food…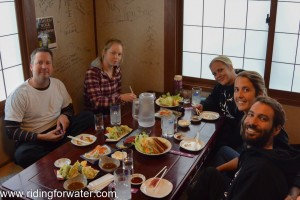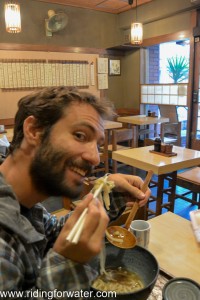 After all those different countries, we had a crush on Japan ! We quickly fell in love with this area and those mountains and we decided to change plans and cancel the last two stops of our round-the-world trip, Hawaii and Alaska. We will go back to Switzerland, save some money and come back with a new project in Japan!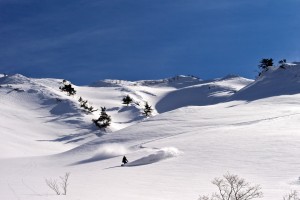 We will keep you post !!!