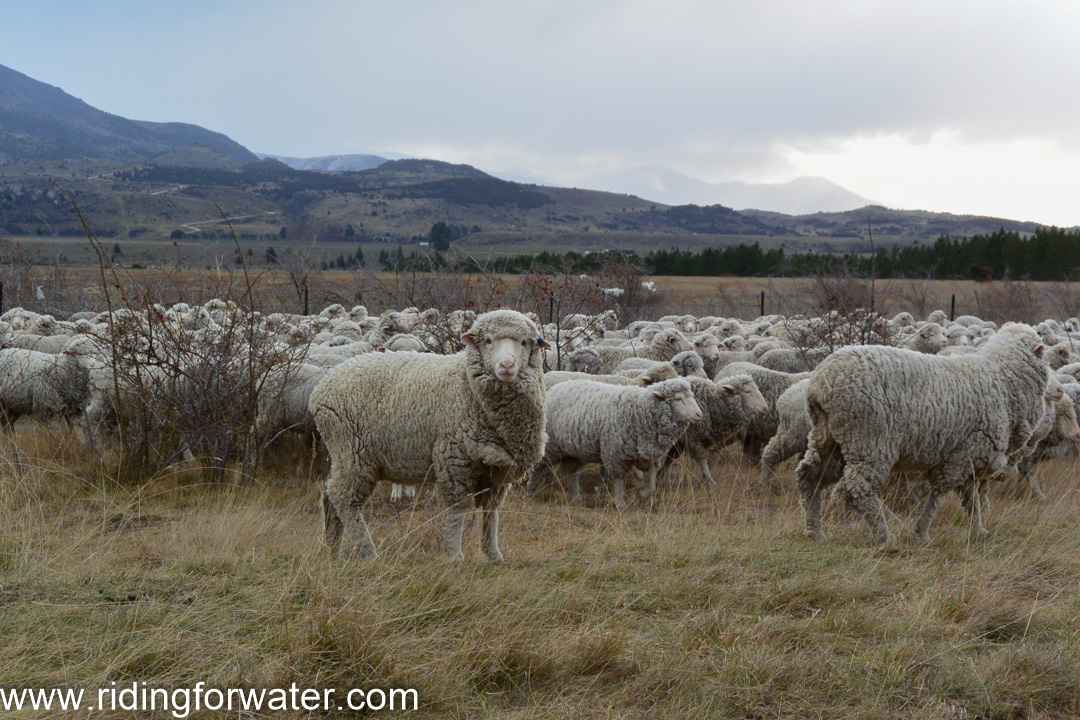 After 5 months on the african continent, our trip around the world continues with Oceania. 3 days in Sydney to leave our surfboard for three weeks, they will be waiting for us at Dan's place, a friend that Simon's met 5 years from now on the beaches of Portugal. Now let's go back to the cold and to snowboarding, in New Zealand where I had the chance to spend a whole season in 2001. I was really happy to make Simon discover those wonderful landscapes and the calm of these lakes with incredible reflexions.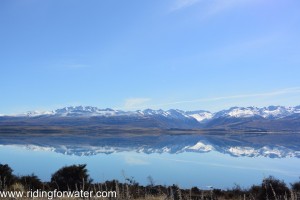 In Christchurch, two swiss friends were waiting for us. Simon's sister had send to their place two boxes containing boots, bindings, outerwear, transceiver,… For the boards, Lib Tech had organized to send the 2015 Travis Rice Gold Member to a snowboard shop in Christchurch, good surprise for Simon. On my side, Bullet, a swiss freerider who just settled there, lended me one of his board for those three weeks. Once all geared up, we could hit the road to the south of the island and Wanaka with our old rental car for just 15$ a day.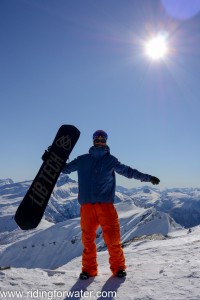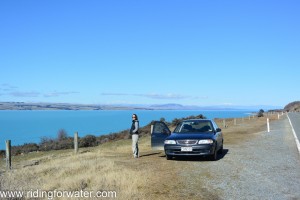 After a really dry and bad start of the season, the forecast was for a few snow showers down south. Thus, we could make a few powder turns in Treble Cone, the ski resort overlooking lake Wanaka. We also took part in the Banked Slalom, all locals and seasoneers where really happy to have such a fun event. Hard for us to be on top after 5 month of surfing but it was a nice springy day in the sun!!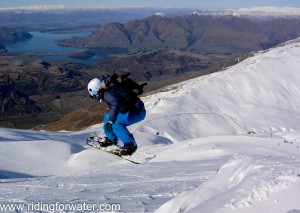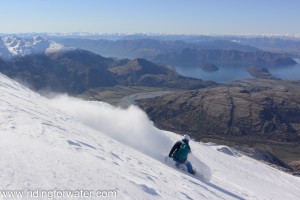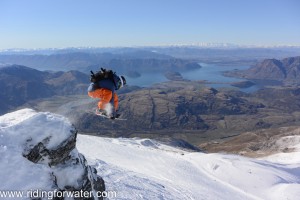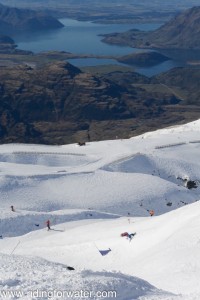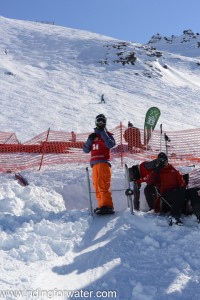 With that lack of snow, we were looking for some other activities. Little walk to the Blue Pools, kayak tour on the lake and heaps of good moments with our hosts Fab and Carol Ann. A couple I met in Veysonnaz a couple years back.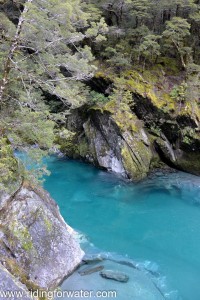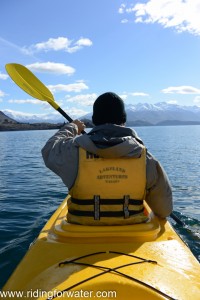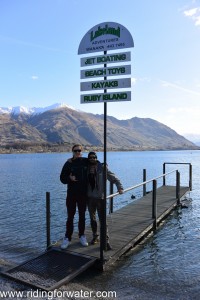 After one week in Wanaka, we decided to go direction lake Tekapo like tourists, not expecting to snowboard but just walking around national parks. While driving and getting closer to Mt Cook, we could see some nice faces, they were way to high to think of walking up to snowboard down… Not a kilometre after seeing a really nice mountain, we saw a heli base just next to the road. Not thinking twice, we stopped and went  for
a chat with the pilots to see if they can drop us up there quickly for cheap. 15 minutes later, we just had time
to put our boots on and get ready that we were already flying in his chopper over lake Pukaki. We were
there all alone on top of a 1'500m run getting ready to drop. GoPro on and Let's GOOOOO!!!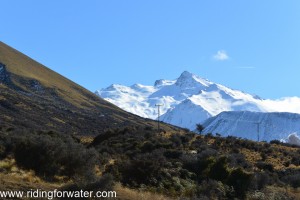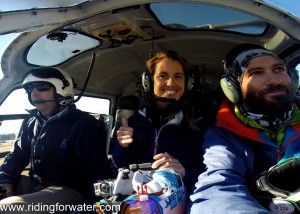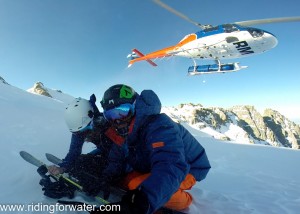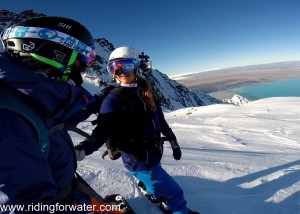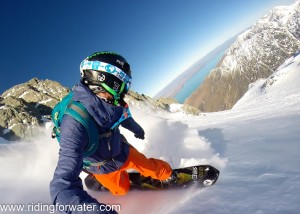 After two couchsurfing nights in a really welcoming house with people from England, Chile and Germany, we were again on the road to try to find some snow in Roundhil. On the resort facebook page, we saw that Ted Ligety, founder of Shred Optics was there for his summer training. Good surprise to see him when we arrived at the parking. Time for taking a picture and having a chat with him, as there wasn't enough snow, he was heading to Queenstown and we went for a nice springy pic nic just above lake Tekapo.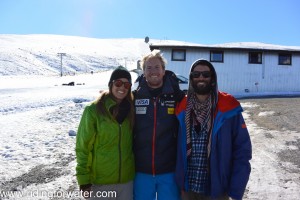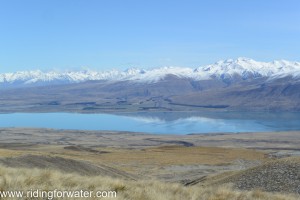 Luckily, we had the weather on our side and could at least enjoy some walk on this wild island. After having to go to the doctor in Christchurch, I had to do a check up after the operation I had just before we left Switzerland. We decided to go check the clubfields around Arthurs Pass. Those small ski resort, with just a tow rope to take you to the top, where opening one month later than usual. Simon had the idea to snowboard and surf on the same day. From the resort of Temple Basin, it was possible to reach Greymouth on the west coast in just an hour drive. He had checked a few surf reports and the forecast was looking good to do those two sports. On the morning of that day, it was some unexpected fog , we did a few runs and also went through the really steep and icy Laundry Chute. Without losing a minute, we started the one hour walk down to the car park. The landscape in the drive to the west coast is just amazing, in such a short time, you leave the high mountains of the southern Alps, drive through some untouched rainforest before reaching the ocean. When finally on the beach checking the waves, we soon noticed that mother nature was definitely not on our side in this country. Waves where way bigger than expected, nobody was out surfing and will have be risky to paddle out on this day.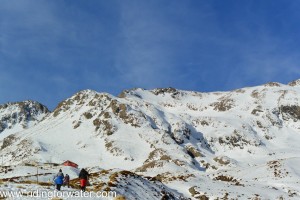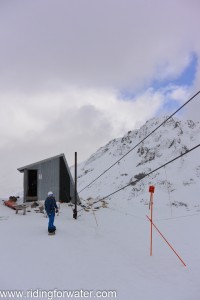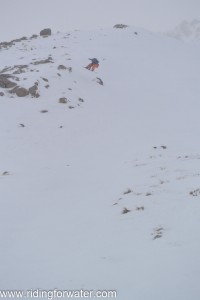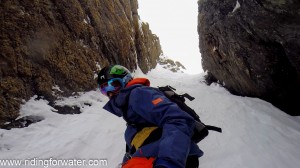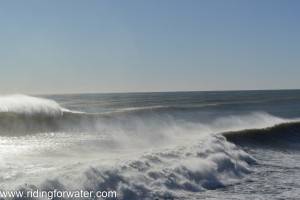 The west coast had much more than surfing to offer and we decided to use our last few days to discover it. Simon, always on the search of beautiful and lost places, brings us to Okarito. Nice forest walk to reach the mouth of a river with some views over Franz Josef Glacier and the Mt Cook… what an amazing contrast. We'll walk back at low tide by the beach, trying to find some jade. We were thinking we had found plenty but it was just some random green rocks…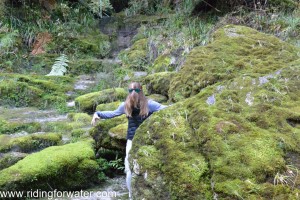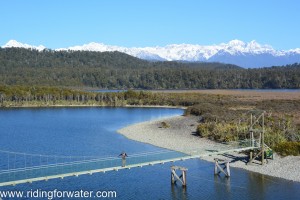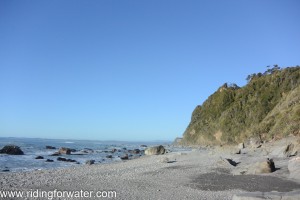 On the next day, we got closer to the glacier. We did a nice one hour walk to get a good view of the Fox Glacier. What a sad surprise to see how it had melted since my first visit in 2001.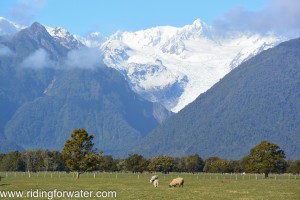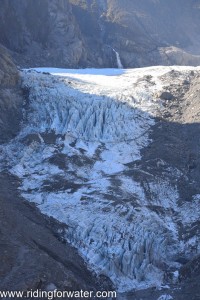 After 3'000 km on the roads of the south island and a last nice evening with our swiss friends in Kiwi Land, here we are again, in the plane, direction Australia !!